In recognition of World Toilet Day we'd like to share the work we are doing with the Water for Women Project in Fiji in partnership with DFAT and Habitat for Humanity Fiji. In the past year, we have supported, strengthened and worked alongside 18 community water committees and 11 school management committees to improve water, sanitation and hygiene for 6,743 people.
Today, 3.6 billion people are still living with inadequate toilets that are bad for their health and pollute the environment. Inadequate sanitation systems can lead to human waste entering rivers, lakes and groundwater, contaminating drinking water sources.
We support communities to improve their access to safe water, sanitation and hygiene (WASH), reducing the risk of disease and improving the quality of life for people in the community.
In the village of Nativi, Joshua who has a diploma in welding and fabrication, and Eremasi, who is an experienced carpenter, participated in a series of workshop and training sessions facilitated by Habitat for Humanity Fiji to support the community to improve their access to safer WASH. Joshua and Eremasi were inspired after these sessions and are now using their combined skills to construct new toilets in their community.
After learning about Ventilated Improved Pit latrines during Habitat for Humanity Fiji's WASH sessions, they began planning to build a Ventilated Improved Pit latrine prototype. So far, Joshua and Eremasi have built three new Ventilated Improved Pit latrines in their community, with five more in progress.
These toilets replace existing toilets that were connected to metal drums used as septic tanks. These drums corrode, leaching effluent into the soil and contaminating nearby water sources. The new Ventilated Improved Pit latrines bring safer human waste management and keep the water sources clean and safe from contamination.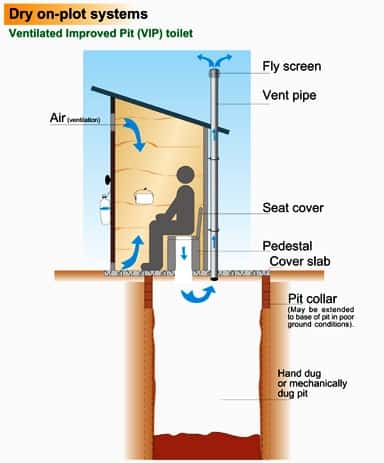 The duo have made a commitment to build new pit toilets in Nativi village for all households that currently have inadequate sanitation facilities. They are being supported by the rest of the community who are fundraising for the required materials. Their example shows that with the right kind of training and access to information, communities can get creative with their combined experience and skills to improve their WASH facilities.
Read more about our project here.
Since 2018, Habitat for Humanity Australia and Habitat for Humanity Fiji have been implementing the Water for Women project which receives support from the Australian Government to deliver a participatory and
socially inclusive community project in Fiji.